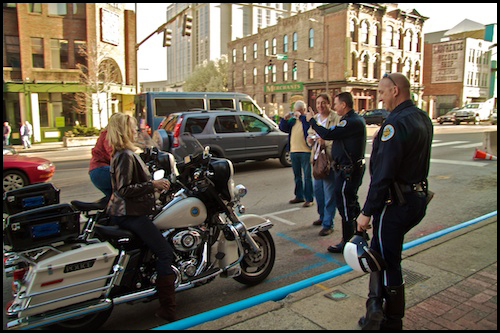 Day 161
What makes a city worth settling in? We pondered that question in Nashville. We spent two days (in the rain no less) pondering that question and here's what we came up with.

1. A city worth settling in has an aura to it. You know that aura —well, actually if you live in Calgary right now, you probably don't. It's the one that makes you feel like you're barfing love out of your heart for the people and music and food, as well as each tiny blade of grass that waves in your little city.

Nashville has that aura. It's got people who will bend over backwards for you. We bought a scrumptious smoothie for $4.87 at the Opry Mills mall. It's a stunning mall. Completely floored in hard wood. For whatever reason, our Visa wouldn't scan (stolen credit cards often don't. Hah). So the guy says, "Here let me look after that for you". What???? When was there ever a time that you bought anything, and the shop keeper offers to pay for it because YOUR payment method isn't working?? Just in case you don't believe us, here's another one. I drove us to a quick lunch at Caney Fork Fish Camp to satisfy our Nashville stomach gnashing. Ahem.

I said "I" drove! Isabella (our scoot). For the first time in human history! Umm, round of applause please?

Anyway, there we are. Trav wants the buffalo chicken sandwich. He always gets the red hot meat sandwich. So the waitress (or server, whichever least offends you) says, "Mm mmm. You don't want that. Trust me. it's all slippery and disgusting. Order the catfish." And he did. It was delectable. You don't get that kind of honesty from people in a service industry. Usually it's, "That sequined tank looks great on you." Even if your spare tire has sprung a leak on one side and your boobs are lumpy and disheveled. Honesty truly is a rare virtue. In Nashville, cops let women sit on their motorcycles. Case in point.

I could go on, but there's more to this equation. More than just awesome people.

2. There's gotta be culture. If you dissect a city and it has no music, no art, nothing that makes it stand out, you have: Calgary. Hah, just kidding. You have Dallas or Houston or the entire state of Florida (except Jacksonville; they have Burrito Gallery).

Nashville, as you know, is the music capital. There is talent oozing from its pores. So much so, we were awestruck. People in the street sang better than American Idol finalists. We watched a band (unravel) on stage called Gypsy. Unbelievable bluegrass talent with a mix of touching sibling rivalry that ended with members stomping off stage for a 'cigarette break'. Every bar we stepped in was the same. Beautiful talent; amazing vocal genius. I think Trav like the girls' accents. Yep, that's it.

At any rate, Nashville is the cat's ass as far as culture is concerned. Murals line the walls of historical buildings, print shops create art for upcoming shows, musicians stream the streets eschewing fabulous falsetto. What more could you ask for?

3. There's gotta be education. Nashville has 13 universities. That's a lot. That means, there's a lot of smart Alpha Omegas sitting in coffee shops and pubs, making important decisions. Like what kind of public transportation discounts are needed to make people happy; where taxpayer dollars should be allocated; what kind of music people should listen to. What kind of issues are important to… there I go rambling again. You get the point. Education is the infinitesimal key to the city. Do not abuse the grandeur with which it operates. Umm, I think this means. Be smart and work hard at what you do best. You make your city happier when you do.

4. There's gotta be acceptance for diversity. Nashville appears to be totally culture friendly. On the outside. We have no idea what it's like on the inside. We were only there two days. However, we experienced one tell tale symptom of intolerance. A local exposed his true black and white feelings on the bus. Our charter bus driver: he was witty, chatty, polite, completely helpful. And racist.
Now I'm not saying everyone in Nashville is racist, but he was.  His 'reason' for  Memphis not being as safe as Nashville, we're told, is that there are, 'black people, low income black people living there and committing crimes'. It was a sad moment that made us shake our heads in disbelief. The guy was so cool. Then he had to go be himself with all his unfounded prejudices. Doesn't mean he speaks for the rest of Nashville. I mean, it's a learned city, right? Hopefully the rest of the population is smart enough to realize that we can easily see each other without the tinted glasses of colour. And just be cool with what we as humans have to offer, instead.

So the lesson is, while I could not habitate Nashville due to the incessant country twang emanating from its city centre (Travis might consider it), it does seem to illustrate the equation. It has the aura, culture, education, and acceptance a city requires to make it mighty.

See if this equation works in your city. I'm curious.



☝ Back to top. ☝